Nikon D80 Digital SLR Camera Software Driver and Firmware (Version A/B 1.11) update for Microsoft Windows and Macintosh Operating Systems.
Nikon D80 Software Downloads
Operating System (s) : Microsoft Windows Vista, Windows Xp
Confirming the firmware version:
Turn on the Nikon D80
Press the MENU button and select Firmware Version from the setup menu.The camera's firmware version will be displayed.
Turn off the Nikon D80
Basic Download and Nikon D80 Installation instructions for Windows and Macintosh: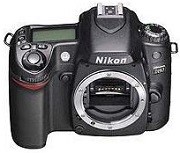 Download and expand the firmware files.(D80Update.zip)
Format an approved SD (Secure Digital) memory card in the camera.
Connect Camera to computer (in MSC USB mode) or use a SD Card Reader.
Copy to the top level of the card the downloaded "A firmware" file.
Disconnect camera from computer.
Update the firmware from the "Setup" menu.
Follow the camera's on-screen menus.
Repeat steps 2 through 7 using the "B Firmware", Re-format Card.
Modifications/Note for Nikon DSLR D80 Firmware Version A/B 1.11:
An issue that, in some rare circumstances, caused the battery indicator to blink, regardless of actual battery charge, has been resolved.
Software:
Operating System (s) : Mac OS 9, Mac OS 9.2.2, Mac OS 10.1.5, Mac OS 10.2, Mac OS 10.3, Mac OS 10.4, Mac OS 10.5.5
Nikon D80 Mac Firmware – Download (1.15MB)
Download the software, firmware and drivers to keep your Nikon D80 DSLR Camera.