Nikon Coolpix S9300 Digital Camera Software Driver and Firmware (Version 1.3) update for Operating Systems.
Nikon Coolpix S9300 Software Downloads
Operating System (s) : Windows 8, Windows 7, Windows Vista, Windows Xp
Note: An issue that, in some rare cases, prevented the camera from turning on, or prevented operation, has been resolved.
Basic Download and Nikon Coolpix S9300 Installation instructions for Windows and Macintosh: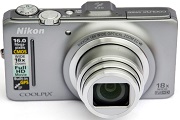 Click the download link below for your computer type.
Save the file to your desktop for easy location after the download completes.
Windows: Run theF-S9300-V13W.exe file to produce the folder labeled S9400 Update containing the folder labeled firmware.

Macintosh: Run the F-S9300-V13M.dmg file to produce the folder labeled S9300 Update containing the folder labeled firmware.

Using an SD memory card reader, copy the firmware folder (containing the firmware.bin file) to the Removable Disk: (Windows), or the No Name disk (Macintosh) representing your memory card for your L28 camera. Do not copy into the DCIM folder, copy to the root of the drive.
After copying, be sure your camera batteries are new for this update. Insert the memory card into your L28, view the Setup menu and choose Firmware Version. A firmware update dialog will be displayed. Select Yes and press the OK button.
Do not shut off or interrupt the update in any way until the display instructs you to. Failure to do so will result in the need for service. Follow the instructions on the camera screen, and confirm the firmware version after the update completes.
Confirm the new 1.3 firmware version in the Setup menu/Firmware version. Be sure you have no images saved on the memory card and format the memory card in the camera for normal use.
Operating System (s) : Mac OS 10.1, Mac OS 10.2, Mac OS 10.3, Mac OS 10.4, Mac OS 10.5, Mac OS 10.6, Mac OS 10.7, Mac OS 10.8.4
Nikon Coolpix S9300 Mac Firmware – Download (16.4MB)
Download the software, firmware and drivers to keep your Nikon Coolpix S9300 Digital Camera.