Nikon D600 Digital SLR Camera Software Driver and Firmware (Version C:1.02) update for Microsoft Windows and Macintosh Operating Systems.
Nikon D600 Software Downloads
Operating System (s) : Microsoft Windows 8.1, Windows 7, Windows Vista
Nikon D600 Win 8.1 Firmware – Download (9.7MB)
Nikon D600 Win 7 Firmware – Download (9.5MB)
Nikon D600 Vista Firmware – Download (9.6MB)
Confirming the firmware version:
Turn on the Nikon D600
Press the MENU button and select Firmware Version from the setup menu.The camera's firmware version will be displayed.
Turn off the Nikon D600
Basic Download and Nikon D600 Installation instructions for Windows and Macintosh: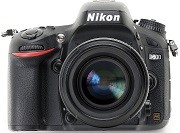 Create a new folder with an appropriate name on your computer.
Choose the correct download below for the computer system you are using below, and save the download to the folder created in step 1.
Run the downloaded file to create the folder titled D600Update, containing the following file: D600_0102.bin.
Format an approved memory card in the camera, then remove.
Copy the D600_0102.bin file to the top level of the memory card using a memory card reader or similar device, do not copy the file into any folder on the memory card.
Insert memory card into the cameras memory card slot, and switch on.
Select Firmware Version from the setup menu and follow the instructions displayed to upgrade the Nikon D610 camera's firmware.
DO NOT switch off the camera at any time during the update, doing so may result in the need for service.
After the upgrade is complete, trun the camera off and remove the memory card.
Check the cameras firmware version to be sure it completed.
Format memory card in camera for use.
Modifications/Note for Nikon DSLR D600 Firmware Version C:1.02:
Support for distortion control data Ver. L: 2.000 and later has been added.Camera firmware must be updated before distortion control data can be updated to Ver. L: 2.000 or later.
Software:
Operating System (s) : Mac OS 10.6.8, Mac OS 10.7, Mac OS 10.8, Mac OS 10.9.4
Nikon D600 Mac Firmware – Download (11.8MB)
Download the software, firmware and drivers to keep your Nikon D600 DSLR Camera.