Nikon D2Hs Digital SLR Camera Software Driver and Firmware (Version 2.0) update for Microsoft Windows and Macintosh Operating Systems.
Nikon D2Hs Software Downloads
Operating System (s) : Microsoft Windows XP Professional, Windows XP Home
Nikon D2Hs Win Xp Pro Firmware – Download (1.06MB)
Nikon D2Hs Win Xp Home Firmware – Download (1.05MB)
Confirming the firmware version:
Turn on the Nikon D2Hs
Press the MENU button and select Firmware Version from the setup menu.The camera's firmware version will be displayed.
Turn off the Nikon D2Hs
Basic Download and Nikon D2Hs Installation-Upgrade instructions for Windows and Macintosh: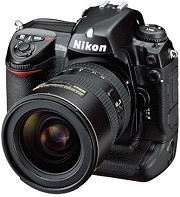 Download the application below, and either click Save to save the D2HS.zip file to your computer or Run to autoexpand the file into the D2HS folder, which contains the firmware .bin file, which contains both A and B .bin files. These files MUST be added one at a time or damage will occur to the camera and service will be necessary.
Format an approved CF card in the camera (do not use a Microdrive card to perform this update).
Use a CF Card Reader (do not use a Lexar Jump Shot USB cable to perform this update).
Copy the AD2S0200.bin file only to the top level of the card.
Update the firmware from the camera Setup/ Firmware Version menu item.
Follow the camera's on-screen menus.
Format the memory card.
Repeat from Step 4 using only the BD2S0200.bin file.
Modifications/Note for Nikon DSLR D2Hs Firmware Version 2.0:
Subject acquisition and tracking performance with autofocus shooting has been increased.Up to 3 custom tone curves can now be downloaded to the camera for use with the Custom option in the shooting menu's Tone compensation item.Nikon Capture 4 (Ver. 4.4.2) Camera Control is required to download 3 custom tone curves to the camera.The optional Camera Control Pro (compatible with Ver. 1.1.1 and later. Ver.1.1.1 Updater Software can be downloaded from our web site.) can also be used to download custom tone curves to the camera.An Image authentication item has been added to the setup menu.The optional Image Authentication Software is required to authenticate images.
Operating System (s) : Mac OS 9.2.2, Mac OS 10.4.11
Nikon D2Hs Mac Firmware – Download (1.06MB)
Download the software, firmware and drivers to keep your Nikon D2Hs DSLR Camera.