Nikon Coolpix S4200 Digital Camera Software Driver and Firmware (Version 1.2) update for Microsoft Windows and Macintosh OS.
Nikon Coolpix S4200 Software Downloads
Operating System (s) : Windows 8, Windows 7, Windows Vista, Windows Xp
Basic Download and Nikon Coolpix S4200 Installation instructions for Windows and Macintosh: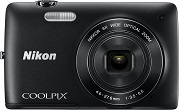 Windows: Create a new folder with an appropriate name on your computer's hard disk.
Download F-S4200-V12W.exe to the folder created in step 1.
Run F-S4200-V12W.exe to create the folder titled S4200Update, containing the following:
firmware: folder containing the firmware.bin file, firmware.bin : the firmware located inside the firmware folder.

Macintosh: Download F-S4200-V12M.dmg.
Double-click the F-S4200-V12M.dmg icon to mount the disk image titled, F-S4200-V12M. A folder titled S4200 Update, containing the following files, will be created inside the disk image: firmware: folder containing the the firmware, firmware .bin: the firmware.

Insert the memory card containing the firmware folder into the camera and turn on the camera.
Select Firmware version from the setup menu and follow the instructions displayed to upgrade the camera's firmware.
After the upgrade is complete, turn the camera off and remove the memory card.
Check the Firmware version item in the setup menu to confirm that the camera's firmware has been upgraded.
System Requirements: Built-in USB interface, Card Reader or computer with built in SD memory card required.
Description: An issue that, in some rare cases, prevented the camera from turning on, or prevented operation, has been resolved.
Operating System (s) : Mac OS 10.1.5, Mac OS 10.2, Mac OS 10.3, Mac OS 10.4, Mac OS 10.5, Mac OS 10.6, Mac OS 10.7, Mac OS 10.8.4
Nikon Coolpix S4200 Mac Firmware – Download (15.2MB)
Download the software, firmware and drivers to keep your Nikon Coolpix S4200 Digital Camera.